Discover more from Three Data Point Thursday
Making your business smarter with data & AI.
🐰 #27 Data people are short in supply, Dbt Labs out in the open, how to make data engineers love their work; ThDPTh #27 🐰

It's a fact, data people are in short supply, Fishtown analytics raised a big series C and how to make data engineers love working for you.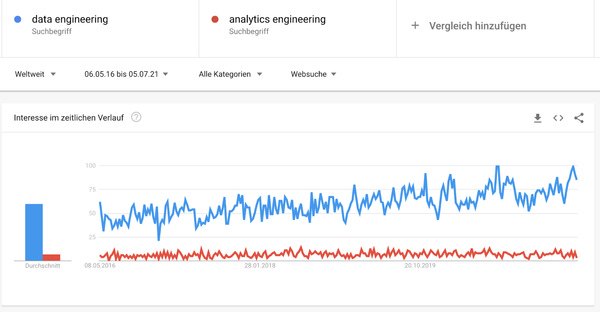 Data will power every piece of our existence in the near future. I collect "Data Points" to help understand & shape this future.
If you want to support this, please share it on Twitter, LinkedIn, or Facebook.
🎁 (1) Dice Tech Job Reports
One article referred to the boom in "data engineering" hiring, so I did check up on the source. And indeed, the company Dice reports a growth of 50% of "data engineering" positions from 2018->2019, and still strong growth numbers in a variety of data-related roles like Data Analyst, Business Analyst, Data Scientist, and the likes.
Most ranked skills in job listings are "SQL, Java & Python" (besides Project Management), machine learning being way down the line.
Sounds to me like a good time to get into the data world. And sounds like working with data is in some perspective more important than working on machine learning currently.
❤ (2) Make Data Engineers Love their work
I love the quote in the beginning…
"Hiring data engineers is a piece of cake!" said no one ever.
And for good reason.
Lior starts off with two key factors I totally agree on, the supply doesn't meet the demand, and how could it be given the explosion of demand? And the fact that in a fast-moving & evolving new data world, it's hard to tell a good fit.
That, in my opinion, leaves most companies with a heavy & permanent investment in training, which of course means we want to bind people long-term to our company, even though the field & the work will constantly evolve.
That's a tough challenge, Lior offers 5–6 ways to help here.
Measuring & projecting the impact of the data team.

Enable constant learning & growth.

Care about your data not just as some "by-product".

Invest in modern data tooling.

Give the data team autonomy.

Let them automate boring tasks, keep the exciting stuff flowing!
I find Liors writing a bit elliptic, but I like the thoughts that's why I put up a longer summary here.
5 Non-Obvious Ways to Make Data Engineers Love Working for You | by Lior Gavish | Jun, 2021 | Towards Data Science
While it's never been easy to recruit engineers — period, data engineers are a whole new ballgame. Here are 5 best practices for hiring.
towardsdatascience.com  •  Share
🚀 (3) Fishtown is now dbt Labs
I'm really excited about the development at Fishtown analytics, they raised a big Series C, 150M, rebranded the company to "dbt Labs" and changed their focus completely onto their tool dbt.
I always enjoy Tristan's deep thoughts about the industry and the way he lays the company strategy out in the open. Since I'm excited about this, I'll keep my deeper opinion on the dbt Labs strategy to myself and just wish them luck ;)
Of the Community, By the Community, For the Community
Fishtown Analytics– now dbt Labs– was founded to bring analytics engineering to everyone. $150m in new funding will fuel the next phase of that journey.
🎄 In Other News & Thanks
Thanks for reading this far! I'd also love it if you shared this newsletter with people whom you think might be interested in it.
P.S.: I share things that matter, not the most recent ones. I share books, research papers, and tools. I try to provide a simple way of understanding all these things. I tend to be opinionated. You can always hit the unsubscribe button!
Data; Business Intelligence; Machine Learning, Artificial Intelligence; Everything about what powers our future.
In order to unsubscribe, click here.
If you were forwarded this newsletter and you like it, you can subscribe here.
Powered by Revue